Moisture Monitoring Projects
Oxford 'Old Home Superhome' - Interstitial moisture monitoring
On-going research for domestic clients at their home in Oxford. Following a thermal renovation, the temperature and relative humidity levels at the interface between internal wall insulation and the solid masonry wall are being monitored. Monitoring will continue through the winter of 2012/13 and results will be presented from April 2013 onwards. Internal insulation products being monitored are:
Diathonite Evolution from Diasen - a cork and lime based insulating plaster with a thermal conductivity of 0.045 W/mK.
Pavawall from Pavatex - a woodfibre insulation board, thermal conductivity 0.042 W/mK over-clad on site with a vapour open gypsum based board from Fermacel.
LEAF project in Eynsham, Oxfordshire - Interstitial moisture monitoring
In February 2012 the Government's Departments for Energy and Climate Change made grants available through the Local Energy Assessment Fund (LEAF). In partnership with the Green TEA (Transition Eynsham Area) community group we ran a project that included conducting 20 home energy surveys and an internal wall insulation demonstration project to a traditional solid stone walled property in the village. We also trained six local people including a local builder to continue to conduct energy surveys for their local community. The builder was also trained to install solid wall insulation on the demonstration project.
We have installed sensors for temperature and interstitial moisture (not just condensation) in the newly insulated walls, which are being monitored by us and University College London as part of a wider research project. Preliminary results will be available after April 2013.
The internal surface of the stone walls was insulated with Pavadentro woodfibre board from Pavatex and finished with lime based plasters.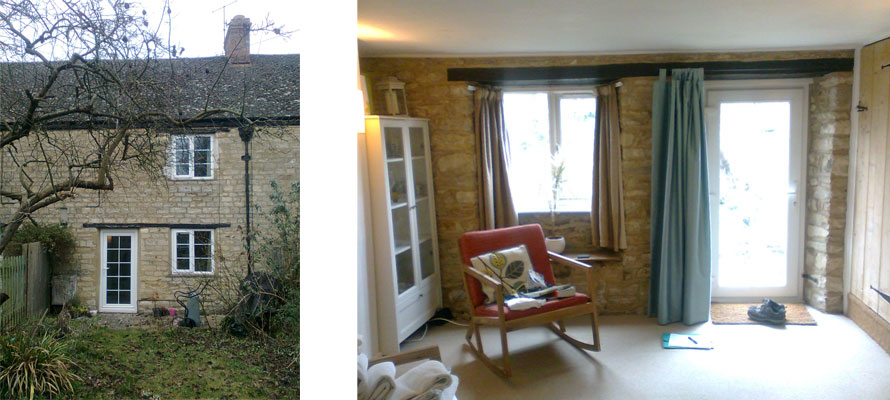 For more information or to view a copy of our portfolio please contact Dan Browne on 07989 171784, or email dan@williamsandbrowne.co.uk.